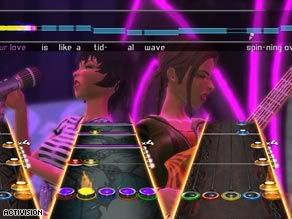 If there's one thing I love in this world, it's a nerd-fest of Rock Band and Guitar Hero. Sure, there might be a few things cooler than being on one knee with a fake plastic guitar in hand wailing away to some sick 80's solo, but not many.
Seriously though, these games rule. And Guitar Hero World Tour is taking things to a whole new level. How, you might ask?
The game's new studio mode will allow players to use the instrument controllers to record music tracks. Through an online service called GHTunes, players also will be able to upload their songs, download others or collaborate to create music together.
The 86 songs in "Guitar Hero World Tour," all master recordings, include such riff-heavy classics as Jimi Hendrix's "Purple Haze," Ozzy Osbourne's "Crazy Train" and Bon Jovi's "Livin' On a Prayer." But the game also ventures into such new "GH" genres as country (Willie Nelson's "On the Road Again") and even dance pop ("Beat It" by Michael Jackson).
Yeah. That's right. "Beat It". No, seriously, "Beat It" is actually an awesome guitar song, but the cool thing here is that you can create your own music. F and Yes.