Stamos, while watching the series over the weekend, noticed that Luke Wilson must have quit his day job to man right field for the Tampa Rays.  Wait, that's not the star of Old School, you say?  That's Rocco Baldelli?  Are you sure?
These two look far more alike than Luke and Owen do, right?  Anywho, this promted us to recall other good lookalikes that we have seen during the series.  Jump down for a picture filled list.
 How about your boy Cliff Floyd, and his uncanny resenblance to hip hop star Nas?
And on the Phillies, Cole Hamels looks eerily familiar to fans of the US version of the Office, no?
 Doesn't it seem like Ryan Howard has been around forever already? Maybe that's because he has, though not on the ballfield. He starred years ago in Diff'rent Strokes, albeit under the alias Gary Coleman.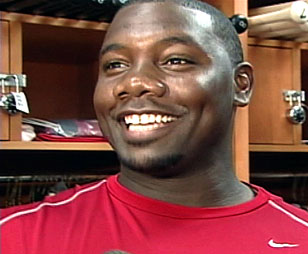 And then there's Pat Burrell.  Maybe his days of clubbing 40 four-baggers ended when it was revealed that he was, in fact, Ray Liotta.
Anyone we forgot?