Kenneth Page Appears to Have a Large Bag of Bills for an Amateur Athlete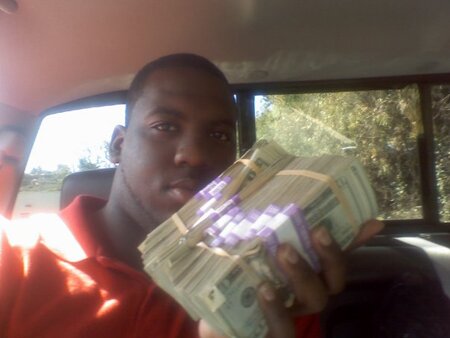 It's pretty safe to say that each and every academic institution in America doesn't have the cleanest reputation when it comes to participating in Division I athletics. We like to turn a blind eye most of the time, but when we get the following email (with the above picture attached), it's pretty hard to ignore.
This pic was on Clemson recruit Kenneth Page's Myspace page and it came down about as quickly as it went up. As some of you know he was a huge 4 star OL football recruit
this past year and it came down to Clemson and UNC where [UNC] lost out on signing day.

He must have been working hard this winter.
Now, one would assume that Kenneth — whose Myspace page you can see here — would be smart enough not to have a picture taken of himself in the backseat of a car, wearing a Clemson orange polo shirt and holding a huge bag of straight-from-the-bank $20 bills. On the other hand, we thought Kelvin Sampson could quit texting his players by now.
So we did our due diligence and checked up on his Scout.com page as well, and frankly, it's pretty hard to argue that it's not in fact Kenneth in the photo with the bills. It's entirely possible that Page just has a really rich grandmother who likes to hand out wrapped bills in plastic bags, but either way, you gotta figure Kenneth and Lil' Bobby got some explaining to do.