Rumor, Rumor: Misty May and Jason Kidd Kicking It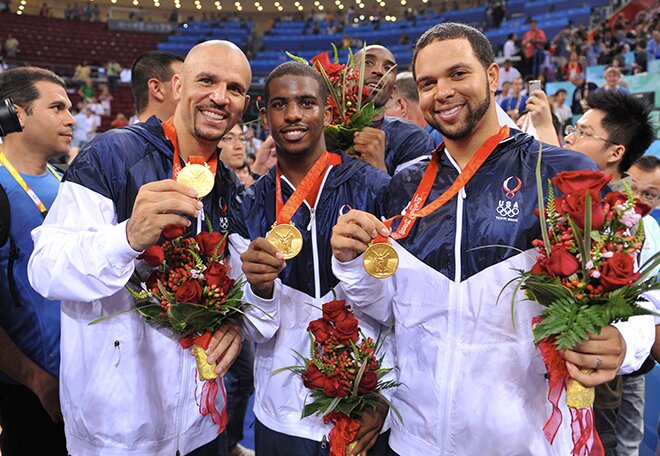 Jason Kidd is recently single, so there's plenty of speculation abounding re: who he's creeping on at the Olympics. Misty May is not single. In fact, she's married to Matt Treanor, Florida Marlins catcher, who is hanging out in Beij … oh, right, he's in America playing baseball.
Good thing Misty's not obsessed with J-Kidd then, right? Because if she was so obsessed with him that she went out and got a huge Roman Numeral Five on her back just because that's his number, things would be weird. Really weird.
Well, if you like rumor, rant and speculation. Which is what would Misty making a "call me" motion while bouncing up and down would probably cause. So, yeah, we've got video and screenshots of that after the hump. Er, jump.
Yeah, I mean, you have to think that "post game interview" is not exactly the best time to make that signal to your recently single idol, when you're getting ready to go get wasted after celebrating a gold medal. At least, if you're assuming that your husband is watching. And in case you don't really believe us, check out the vide-ideo.
I think the way she approaches her relationship with her husband it may not be conceivable of some after party action between her and Kidd. Why not, a womanizer who disrespects women would be a nice mix for someone who keeps her marriage at arms length. Maks will have his hands full, wait until they do one of those scenes on DWTS where the celebrity and the pro spend time together. Matt will be no where to be seen.
The men's basketball team US He defeated Spain in the game gold medal Sunday in Beijing, bringing a total of 24 current and former NBA players who won medals at the Olympic Games in 2008. The team of Argentina defeated Lithuania for the bronze medal. The NBA was well represented on the lists for the competition of men's basketball at the Olympic Games of 2008. A total of 42 current and former NBA players were in 12 Olympic teams, the highest number since NBA players began to participate in the Olympics in 1992. Ten Olympic teams had at least one current or former player on their roster.
The United States, from the Olympic Games in 1936, have captured 13 of the 16 Olympic gold medals for which they competed. With the victory, Jason Kidd extended his international record to 56-0 in Olympics, Olympic qualifying and international friendly games. Kidd joins a distinguished list of NBA players, including Charles Barkley, Patrick Ewing, Michael Jordan and David Robinson, among others, who have won multiple Olympic gold medals list.
Players from the United States who won for the first time an Olympic gold include: Carmelo Anthony (Denver Nuggets), Chris Bosh (Toronto Raptors), Carlos Boozer (Utah Jazz), Kobe Bryant (LA Lakers), Dwight Howard (Orlando Magic) LeBron James (Cleveland Cavaliers), Chris Paul (New Orleans Hornets), Tayshaun Prince (Detroit Pistons), Michael Redd (Milwaukee Bucks), Dwyane Wade (Miami Heat) and Deron Williams (Utah Jazz).
The silver medal won by the Spanish Olympic team featured seven current and / or former NBA players, Pau Gasol (LA Lakers), Jose-Manuel Calderon (Toronto Raptors), Rudy Fernandez (Portland Trail Blazers), Jorge Garbajosa ( Toronto Raptors 2007-08), Marc Gasol (Memphis Grizzlies), Raul Lopez (Utah Jazz, 2002-05) and Juan Carlos Navarro and (Memphis Grizzlies, 2007-08).
Argentina received the bronze and was led by Manu Ginobili (San Antonio Spurs), Carlos Delfino (Toronto Raptors, 2007-08, 2004-07 Detroit Pistons), Andres Nocioni (Chicago Bulls), Fabricio Oberto (San Antonio Spurs), and Luis Scola (Houston Rockets).
A complete list of current and former NBA players who won Olympic medals follows.
In times when the bases now play wildly and have more points than ideas in their hands, the withdrawal of Jason Kidd, announced Monday, makes rethink the role of the driver of a team, Kidd did wonderfully well since coming to League in 1994.
The basis was a man logo on every team he played, except perhaps in the Knicks this year, one place where he played just one season. Because it began in Dallas (3 seasons), to which he returned later to add another 5; followed in Phoenix (5) and then in New Jersey (7).
However, Kidd could not reach won accomplishments, but often came close, until 2011, when surprisingly beat the Miami trident-Bosh-James Wade 4-2 in the finals, and with Kidd 38 years. It was his only NBA ring.
He became runner-up twice, 2001/02 and 2002/03, both of New Jersey. One is the frustrated LA Lakers and the other Spurs Manu Ginobili with a young man in his squad, making his first experience.
Phoenix also put together memorable campuses, but could never get past the first round of the playoffs. Throughout his career, he averaged 12.6 points, 8.7 assists and 6.3 rebounds (in playoffs, 12.9, 8.0 and 6.7 respectively). That was his feature: do a bit of everything.
Visionary for the pass, Kidd, in his younger years, was impressed by the speed with which managed and executed actions without losing effectiveness.
Another great work accomplished in the selection of the United States, for which he played four tournaments, avoiding all failures and finishing unbeaten in 36 matches: Pre-Olympic 1999 and 2007 and Olympic Games 2000 and 2008. A crack.
The Knicks, with its output, will pay just over quota for 2013/14, but not too much (Kidd could have claimed 3.1 million). Retirement will favor the renewal of Pablo Prigioni? Until July, at least, it is difficult to know.
"My time in professional basketball has been an incredible journey, but one that comes to an end after 19 years. I look back and see that in the 4 teams that I represented in the NBA, I thank each of my colleagues and of my coaches I had, "Kidd said.