The Cold War Kids Are Bringing the Heat
Cold War Kids are on tour. If said tour is coming your way, I suggest you get off your ass and check them out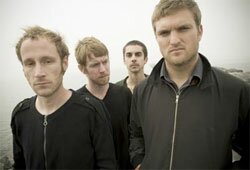 They rolled through Chapel Hill, NC on Monday night, playing a sold-out show at the Cat's Cradle. My lady and I were fortunate enough to get in and we got our collective domes rocked. These guys put on a fantastic show.
Their first album, Robbers and Cowards, was released in 2006 and is, in my opinion, an extremely under-rated effort.
Their current tour is in support of their recent sophomore release Loyalty to Loyalty. It's still pretty new (released Sept. 23), so I can't put it on the same level as R&C yet, but it certainly is growing to me. It's a little more jazzy or bluesy than the first, and doesn't come at you quite as hard, but after a few sessions and then seeing most of the songs performed live on Monday night, it's gaining momentum in the C. Brahkowski rotation.
Check them out. Seriously.
México.- indie rock band Cold War Kids, which featured in the program Jimmy Kimmel's new single "Louder than ever", will begin his promotional tour on 2 February in the UK.
From that date, the alternative rock band will step on stage in Germany, Switzerland, France and the United States, countries that take their third studio album entitled "Mine is yours".
The original group of Long Beach, California, launched its new album in the United States last January 25, and will be sold in Mexico from February 1 in digital stores and 14 in physical format.
The single, which was already played on 26 January at the "Jimmy Kimmel Live!" Program, already has video, featuring the rock group full interpretation of the theme, and at the same time, it shows the difficult world of modeling female.
"Mine is yours", it was produced by the US and Grammy winner, Jacquire King, who has also worked with rock bands as independent Clinic, The Features and Modest Mouse.
Some songs that are part of this material are: "Mine is yours", "Louder than ever", "Cold toes on the cold floor" and "Royal blue".
Formed by Matt Aveiro, Matt Maust, Jonnie Bo Russell and Nathan Willett, Cold War Kids also confirmed their participation in the Lollapalooza Festival, which first will be held outside the United States, and presented in Chile on days 2 and 3 of April.