These Go To Eleven: Seattle Supersonics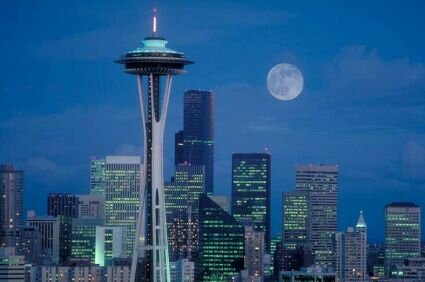 With the death and unwarranted molestation of the Seattle NBA franchise — and the L itself — we thought we'd celebrate (because really, protest is futile at this point) the 11 greatest Supersonics. Sure, the franchise will be back at some point, and yeah, they get to keep the name (or $30 mil if they don't get a franchise by 2013) but it won't be the same.
The Seattle Supersonics as you know them no longer exist. The team is en route to Oklahoma City, and all Clay Bennett had to give up was his soul. What a deal!
Without further ado, our top 11 Supersonics of all time.
11. Nate McMillan – The other guard on those same Sonics teams, McMillan is also a Wolfpacker (bonus points) and coaches the bad-a Portland Blazers (bandwagon alert), the team he took over after manning up the Sonics job for the last half decade. He landed two All NBA Second Defensive Teams in the early 90's and he rocks a flattop.
10. Ray Allen – It's debatable whether or not Allen will actually be remembered as a Sonic when he retires; it seemed pretty likely he would be a Buck, which is why he's been bumped down here, until the Celtics made our lives all hell won the title this past season. Besides, he got most of his reco as a Supersonic because he got to jack threes (franchise leader per game at 8.5)
9. Rashard Lewis – 'Shard's departure via free agency knocks him in the minds of most fans; had he stayed around (not that the Sonics would have paid him, mind you) he would have kept tacking onto his franchise record for three pointers made, which is especially impressive considering he was playing with Ray Allen the entire time.
8. Detlef Schrempf – Almost climbing to the top of the charts based on the Band of Horses song alone, Detlef was the third man on those early 90's teams that thrilled America so much. He was the deadly spot up shooter that let Shawn Kemp roam free … okay, Shawn Kemp did whatever the hell he wanted, but still.
7. Dale Ellis – Okay, in fairness, my fondest memories are of this guy in a Bucks uniform, draining threes from the corner a la NBA Live 2000. But Sonics fans remember him back from 88-89 when he set the single season Sonics scoring record with 2,200+ points.
6. Gus Williams – Along with Sikma, Williams is one of the chief reasons the Seattle franchise is still considered to hold so much tradition, etc; they actually hung one from the Space Needle in 1979, bringing home Seattle's only professional sports championship.
5. Jack Sikma – When you pull seven straight All Star Game selections, and you win your franchise a banner, you most certainly qualify.
4. Shawn Kemp – perhaps this is too high for the rainman, based solely on legacy and fatness and whatnot. But if you're just using "Earth-shattering, freak of nature slam dunks" as your basis for deciding how to rank them, he could be higher.
3.Spencer Haywood – Haywood would be higher if it weren't for the fact that he lost several of his great years working in the ABA; when he finally came over to Seattle though, he dominated. He averaged 30 and 13 his first year in the NBA and made four All Star Teams.
2. Lenny Wilkins – Wilkins is the all time biggest winner and all time biggest loser in NBA coaching history, but he made his original mark as a player with the Sonics and then later as coach. He's the only Hall of Famer from the franchise (as of now) and you could easily make a case that he deserves the top spot. Sue us, we're young.
1. Gary Payton – The Glove was a fixture of the basketball scene while we were growing up; the Eddie Vedder to Shawn Kemp's Kurt Cobain, if you will. It's easy to forget just how Hall of Fame amazing he was when all you can remember is a feeble attempt to win a ring with Miami and Los Angeles. Payton was a demigod.