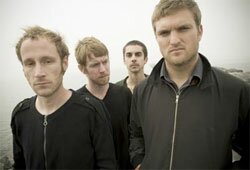 The Cold War Kids are on tour. If said tour is coming your way, I suggest you get off your ass and check them out.
They rolled through Chapel Hill, NC on Monday night, playing a sold-out show at the Cat's Cradle. My lady and I were fortunate enough to get in and we got our collective domes rocked. These guys put on a fantastic show.
Their first album, Robbers and Cowards, was released in 2006 and is, in my opinion, an extremely under-rated effort.
Their current tour is in support of their recent sophomore release Loyalty to Loyalty. It's still pretty new (released Sept. 23), so I can't put it on the same level as R&C yet, but it certainly is growing to me. It's a little more jazzy or bluesy than the first, and doesn't come at you quite as hard, but after a few sessions and then seeing most of the songs performed live on Monday night, it's gaining momentum in the C. Brahkowski rotation.
Check them out. Seriously.