Best Moobs in Sports, in Honor of Andre Smith
As you all may have seen, Andre Smith "debuted" at his Pro Day yesterday. Once a lock to be a top 5 pick, his titty-shaking - and not in the fun, lap-dance kind of way, but in the grotesque, uber-flaccid inducing way- couldn't have helped his cause. We discussed this today on Burning Down the House (because Stamos, myself and Kigh created the idea via email) but, damn, there are some serious man boobs (MOOBS) out there right now, when it comes to the sports world.
So, without further ado, and certainly without trying to explain why I've been discussing men's breast for well over six of the last 24 hours, hit up the jump for our list of the top ten sets of MOOOOOBS in sports. Yeah, moobs is fun to say.
1. Andre Smith

This pic doesn't even do these sweater-puppies justice; if you were unfortunate to see the photo of Smith running the 40 yard dash, well, you probably remembered that whole alien-ate-Tara-Reid's stomach.
2. Phil Mickelson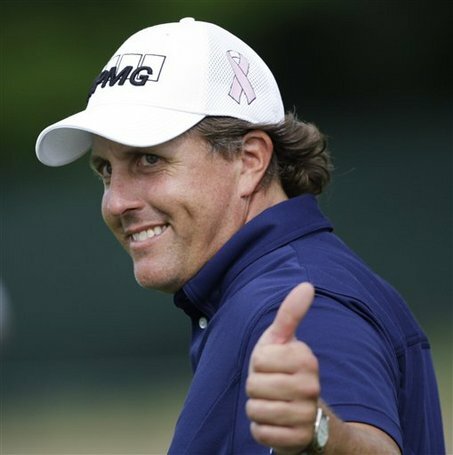 You'll notice my good friend Ryan Wilson was kind enough to compare Philbert's boobies with Tiger's ridiculous pecs. That's because Phil, at his chunkiest, might have challenged Smith for MOOBOTY in 2009. No chance he wins now though.
3. Mark Mangino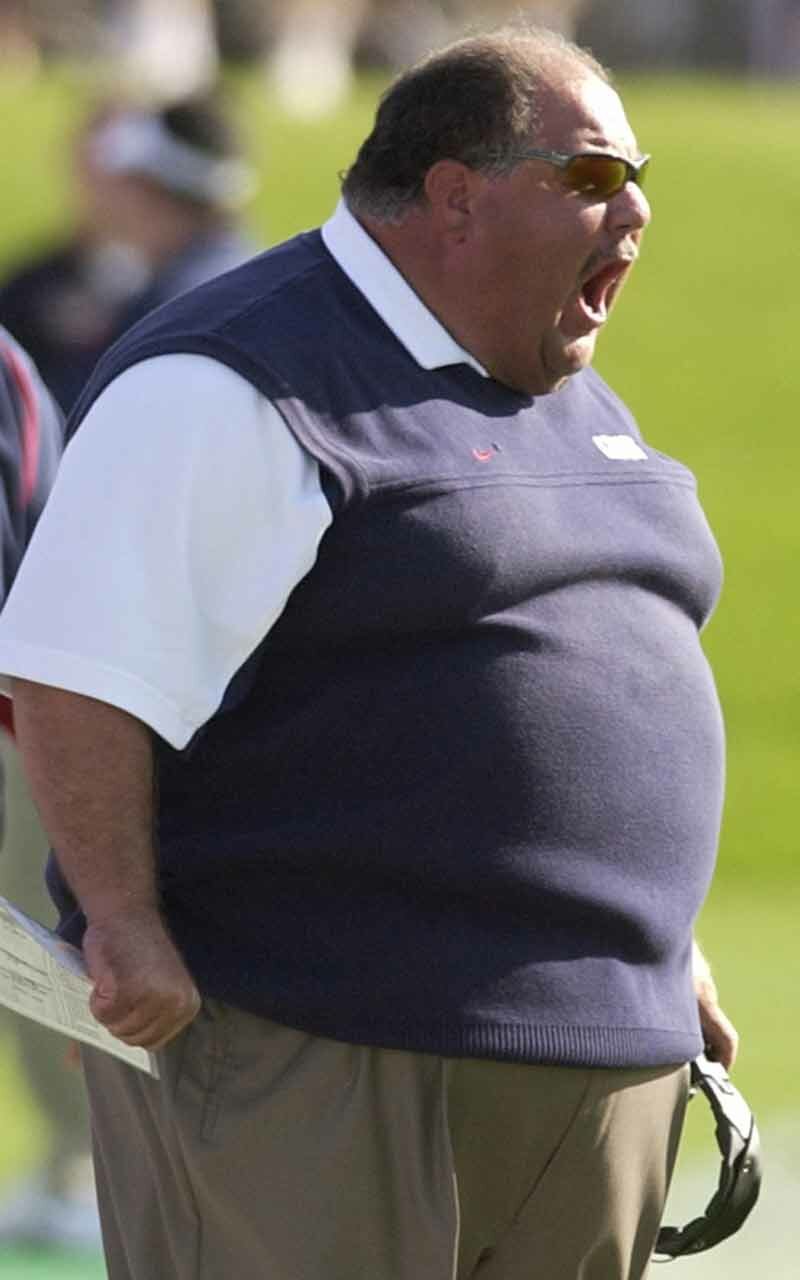 We didn't want to include coaches, but, well … look at those fucking flapjacks, man! Each one of Mangino's moobs weighs approximately 13.2 pounds and comes with side of biscuits and gravy. Wow. I just made myself throw up. Ew.
4. Bill Parcells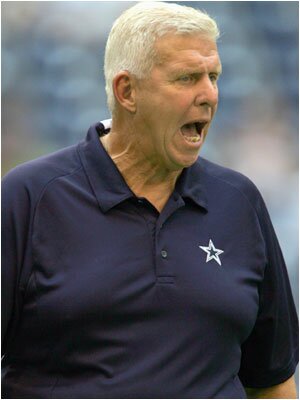 Again, coaches were a necessity. The best part about Parcells' upper-body tonnage is that he seems to be completely indifferent to the issue of flaunting his breasts. Of course, there's a decent chance he thought he pulled his pants up high enough to cover them, so maybe he doesn't know.
5. Charles Barkley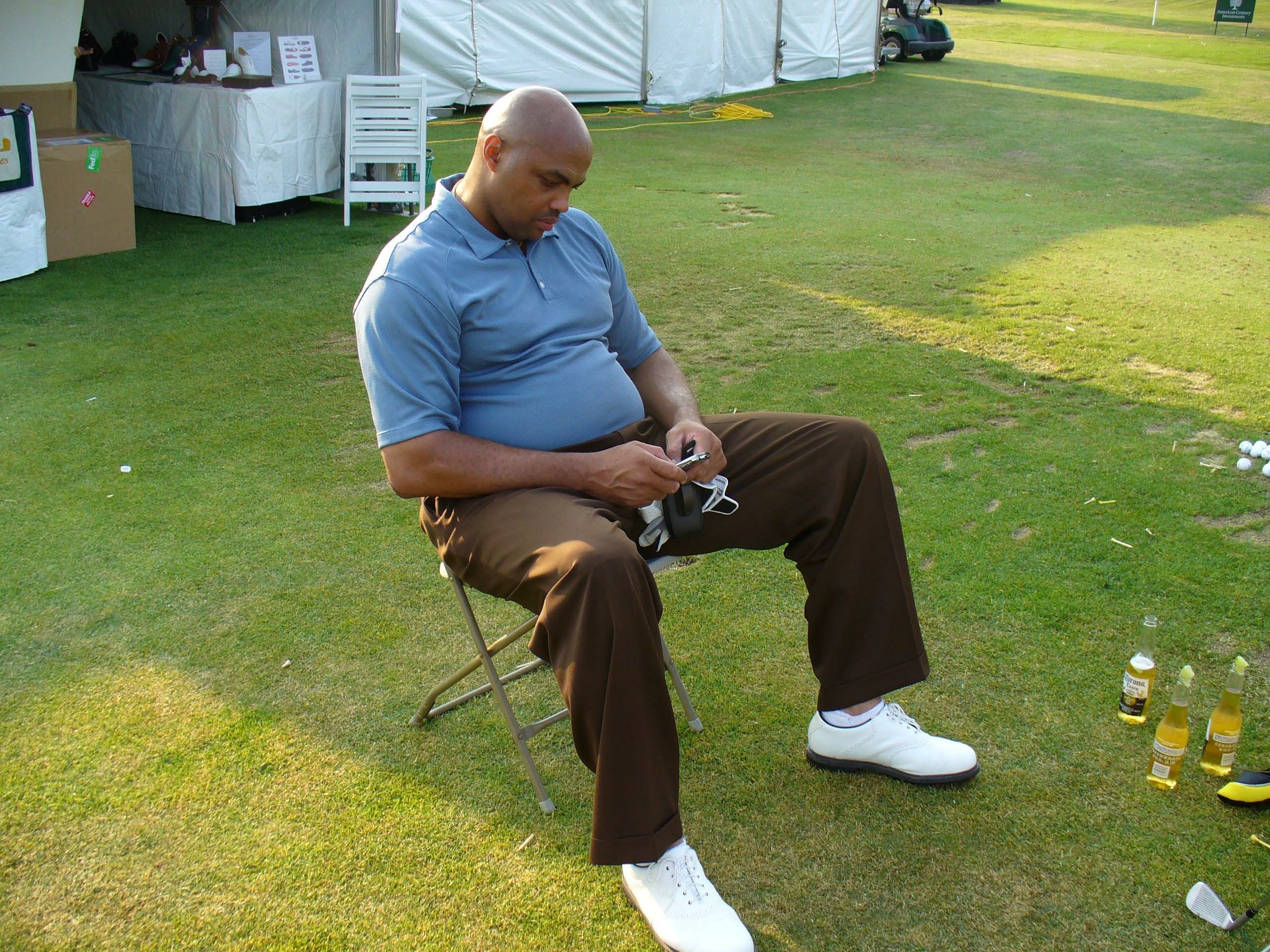 Some people will call him "svelte." We will laugh at those people and call him fat. Also, he knew he was going to be on the teevee for the Haney Project and that makes it a lot easier to understand why he's slimmed down. Wait until he drops six strokes on his game and lets loose with the cart booze and food. It's a safe bet he's got the best rack in Las Vegas jail right now. If he spent half the time in the gym that he spends at the buffet or the sportsbook, he'd be a new man.
6. Oliver Miller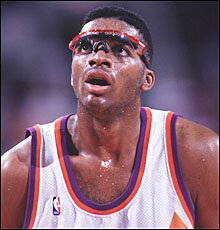 This picture doesn't do Miller justice either; I remember playing with him in NBA Live 2000 (when Luc Longley picked up too many fouls, of course) and even then you could tell how huge his titties were. Oh, Ollie.
7. George Foreman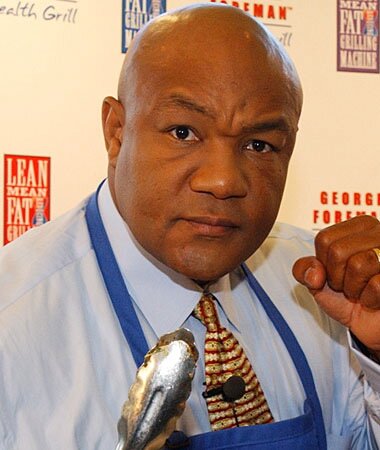 Boxers are fairly vulnerable to moobage because they always have their shirts off. Of course, they're supposed to always be working out, so this shouldn't be a big issue. Unless of course they hang around until they're 90 shilling hamburger grills. And that's two large patties, son.
8. Andruw Jones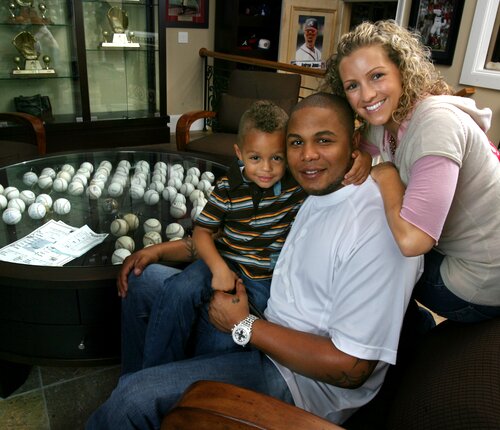 Isn't that cute! And to think, Druw has no freaking idea that he ruined my fantasy season. For those that enjoy sports betting, there's surely a prop bet out there on Jones' Hr over/under for the 09 season, and we LOVE anything under double figs.
9. Marvin Austin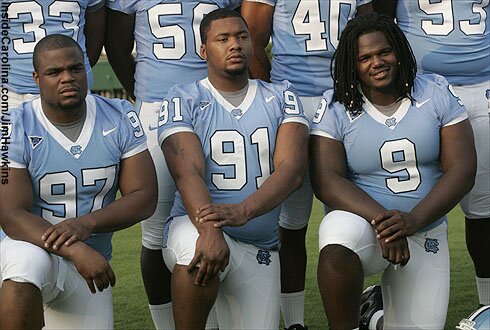 Who, you might ask? How does "that really chubby dude in the Carolina Tarheel uniform to the right with the voluptuous moobs" sound? Because that's the right answer; perhaps he's not as notorious, but he jumps to mind immediately for anyone that follows ACC football.
10. Colin Montgomerie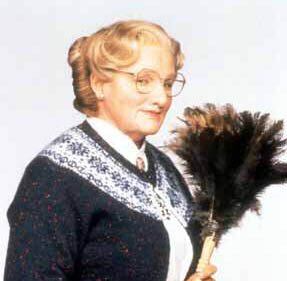 The guy's nickname is "Mrs. Doubtfire." And he's Bill Parcells' British twin. Only with bigger moobs. God, fat people are funny.